Gyetsa Water Project Inaugurated
Bumthang, Bhutan – September 28, 2023 – In a momentous ceremony attended by esteemed officials, the Gyetsa Water Project in Bumthang, Bhutan, was inaugurated today. This vital initiative, undertaken as a partnership project between the Royal Government of Bhutan (RGoB) and the De-suung National Service program, promises to bring clean and safe drinking water to the Gyetsa, Buli, and Buli Dratshang communities within the Chumig Gewog.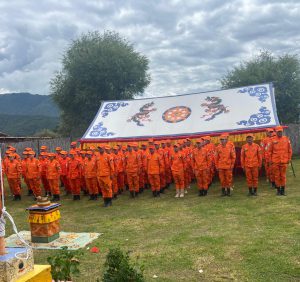 The Gyetsa Water Project is a beacon of hope for the region, addressing the pressing issue of contaminated water sources, marked by excessive silt content and discoloration. The Gewog administration, Chumig, recognized the urgent need to identify a perennial and reliable water source that could cater not only to present but also future water demands in the area. Consequently, this ambitious project was conceived and realized.
Key project details include:
Partnership Collaboration: The Gyetsa Water Project is the third successful collaboration between the RGoB and the De-suung National Service program in Bumthang Dzongkhag.
Community Impact: This initiative stands to benefit the Gyetsa, Buli, and Buli Dratshang communities, comprising a total of 65 households.
Budget: With a cost estimate of 7.578 million Bhutanese Ngultrum (BTN), this project signifies a significant investment in ensuring the health and well-being of the local populace.
Project Components: The Gyetsa Water Project encompasses various crucial components, such as the construction of a 5.3 km transmission line, a 5.2 km distribution line, an intake tank, an FCR (Ferro-Cement- Reservior), a BPT (Break Pressure Tank), four ARVs (Air Release Valves), 55 public tap stands, and the establishment of three multi-tap facilities to cater to the Dratshang community.
The inauguration ceremony was graced by the esteemed presence of Dasho Dzongdag of Bumthang, alongside officials from the Dzongkhag Administration, De-suung office, Royal Bhutan Army (RBA), Ministry of Infrastructure and Transport (MoIT), Gewog Administration, and members of the local community.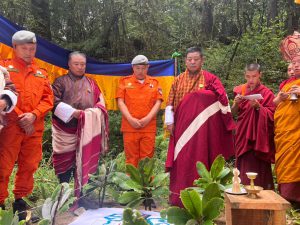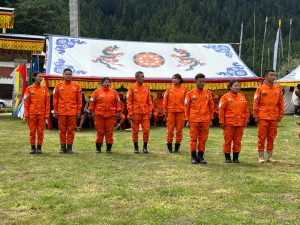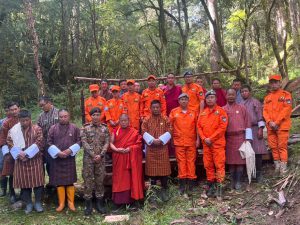 The Gyetsa Water Project is not just a testament to collaboration but also a symbol of dedication to improving the quality of life for Bhutanese citizens. It represents a significant step towards achieving reliable access to clean drinking water, which is basic human necessity.