Guma Water Project-Punakha
First Pilot Project by De-suung Volunteers as a part of De-suung National Service
11 November 2020:
A Salang Tendrel ceremony for a drinking water project at Guma Gewog in Punakha was held on 11 November 2020 coinciding with the 65th Birth Anniversary of His Majesty the Fourth Druk Gyalpo. It was presided over by the Venerable Tsula Lopen. This water project in Punakha is the first pilot project undertaken by the De-suung volunteers as part of the De-suung National Service.
Inspired by the Royal Address of His Majesty The King to the Nation on 12th September 2020, the De-suups have volunteered their services to develop water projects considering the importance of safe and reliable drinking water for the people and the nation. The pilot project will help address the drinking water problem in the three Chiwogs of Phulingsoom, Changyuel Thara Tashijong, and Docha Ritsa. The drinking water will be sourced from the Jajab Menchu stream and will supply drinking water to 258 households, benefiting about 1800 people. Over thirty De-suups were engaged to set up the field camp infrastructure at the site.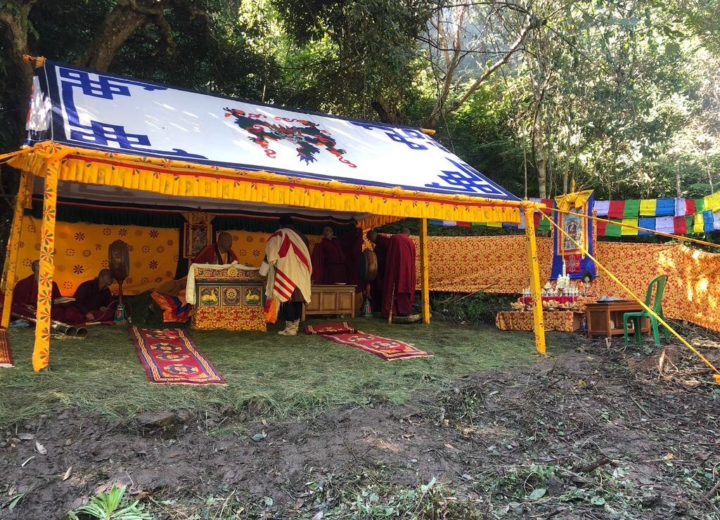 Further, seventy De-suups, guided by Dzongkhag engineers, will construct the drinking water infrastructure that will consist of an intake structure, two transmission lines and two reservoirs.
According to the Director General of De-suung Tashi Tobgye, the second project will be piloted in Semjong gewog of Tsirang within this month. Based on the experience gained from the pilot projects, the De-suung Office will work with the Royal Government to see how De-suups can render their services to the nation and help to address the challenges posed by the COVID-19 pandemic.
The 42nd batch De-suups who have received specialized training in water services can volunteer for the series of water projects that will be jointly identified with the Royal Government and launched by December 2020. The Members of Parliament from Punakha including the Foreign Minister and Officials from MOWHS, GNHC, and Punakha Dzongkhag also attended the inauguration ceremony.