De-suung completes Domakhey water project in Punakha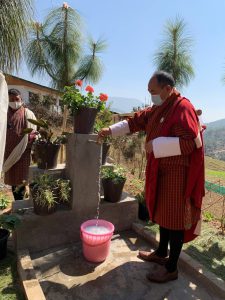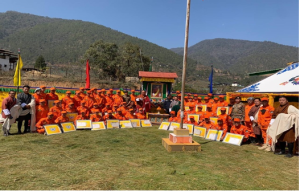 Sixty De-suups along with two RBA personnels and two civil engineers toiled hard for over  seven months to bring reliable and clean drinking water to the community of Domakhey under Chubu Gewog in Punakha Dzongkhag.  The De-suung- RGoB project which was executed with technical support from MoWHS, was launched on 23rd July 2021. It is the second water project in the Dzongkhag. Over 132 Households with a population of 965 will now have free, reliable and safe drinking water at their doorsteps.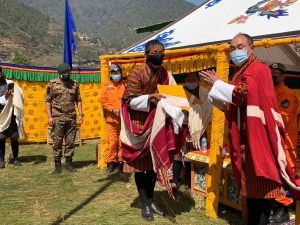 The team has built 9kms long transmission line with additional 34 kms of distribution line, taking the water to all 132 households. Further, the team constructed 59 new tap stands and renovated 45 old tap stands. Other civil structures like one intake tank, 4 Break Pressure Tanks (BPT), 5 division boxes and 12 different RCC structures were also built. The project was formally commissioned and handed over to the Dzongkhag and the community in the presence of Punakha Dzongdag and officials from the Dzongkhag administration. It was commissioned on 6th March 2022.Amidst the pandemic, the De-suups have withstood all forms of challenges, to make a great difference in the lives of the community people.