Commissioning of Ramina Water Project, Gasa
De-suung National Service is gratified to commission Ramina water Project and formally hand over to the Dzongkhag Administration of Gasa.
The project was executed as a collaboration between De-suung Office and MoWHS with support from Royal Bhutan Army and Gasa Dzongkhag Administration. 31 De-suups along with four RBA personnels and two technicians from Gasa Dzongkhag took three months to complete.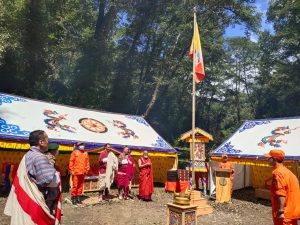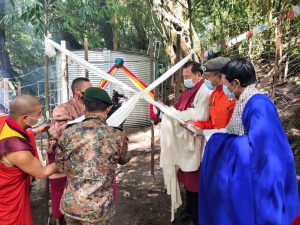 The project will benefit Chubesa Ramina, a kidu settlement area which has land plots allotted to 192 Households catering to 960 people approximately.
The project scheme included construction of Intake structure, Break pressure tanks and transmission line of 3.3 kms.  To ensure sustainability, Dzongkhag Administration is entrusted to manage the water supply scheme hereafter.
Gracing the commissioning, the Secretary of MoWHS granted soelras  from His Majesty the king and certificates to the project team in appreciation of their loyal service.