Shyiner Water Project under Ura Gewog in Bumthang is being executed as RGoB- De-suung partnership and is one of the activities under water flagship program.
It will benefit 40 households with present population of 300(approximate). The project consist of construction of one intake structure, transmission length of 6.6 km, 1 number of break pressure tank(BPT) and one prefabricated water tank. It will be implemented by 45 De-suups, two RBA personnel and 2 technical person. The project commenced today on 27th June 2021 and is expected to be completed by 27th October 2021 in a duration of 5 months. This project will be implemented with full technical supervision of Bumthang Dzongkhag Engineering Sector and technical support from Program Management Unit (PMU), WSD, DES, MoWHS.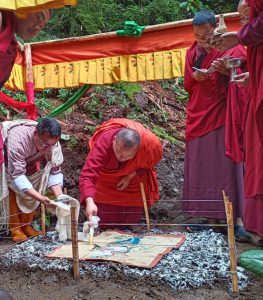 After completion, it will be officially handed over to the Dzongkhag /Gewog/ community for ownership, Operation and Maintenance.