21st February 2021:
Coinciding with the auspicious day of the Birth Anniversary of His Majesty The King, the fourth De-suung National Service Water Projects in partnership with RGoB was launched in Naja Gewog in Paro Dzongkhag.
The project will be implemented by 103 De-suups, over a period of around 3 months. The total cost for the water infrastructure component, estimated at Nu 4.6 million, is projected to benefit about 98 households with the projected population of 1,134 people. The project consists of construction of the following structures:
• 6 spring intakes at source
• About 7.2 Kms of water transmission line
• About 16 Kms of distribution pipe line
• 6 water reservoirs (4 cubic meter – 16 cubic meters)
• 45 tap stands for the households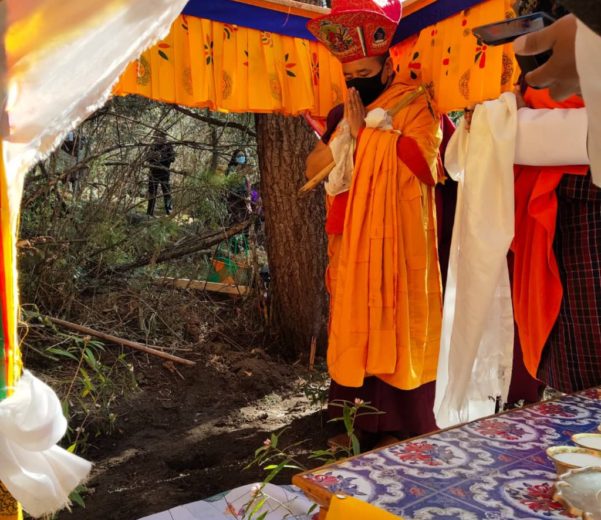 The Salang Tendrel ceremony for Naja Water Supply project was made by Honourable Finance Minister and presided over by Venerable Lam Neten of Paro Dzongkhag. Officials from His Majesty's Secretariat, Dzongkhag Administration, MoWHS, De-suung Office, and the Local Government attended the ceremony. Upon completion, the water supply project will be handed over to the Gewog/community for ownership, operation and maintenance.

The De-suung National Service Water Projects have been initiated to carry out His Majesty The King's Commands to engage the youth in nation-building activities that would benefit the country for posterity, received by the entire nation during the Royal Address on September 12th. The Office of the De-suung has collaborated with the Royal Government of Bhutan to engage our youth in nation building activities. Thus far, the projects have focused on developing water resources to improve and expand water supply for the benefit of our people in line with the 12th Five Year Plan.
Following the Royal Address, two pilot projects were successfully launched in Guma Gewog in Punakha and Semjong Gewog in Tsirang under the auspices of the De-suung National Service Program and three De-suung National Service Water Projects in partnership with Royal Government of Bhutan (RGoB) was launched in Saling Gewog in Mongar, Dangdung under Langthel Gewog in Trongsa and Kamji under Geling Gewog under Chukha Dzongkhag. A total of 276 De-suups have been engaged in these projects so far mostly from the specialized water related trainings conducted by De-suung in the 42nd and 43rd training batches.
The next water projects will be launched in Kana Gewog under Dagana and Dechheling Gewog Pema Gatshel by March, 2021.